How We Got Here – Sanjna Kapoor & Sameera Iyengar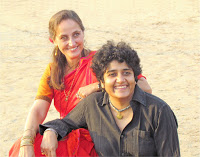 In this column we feature Founders/CEOs of organisations who have come a long way from the time they founded the cause. Meet Sanjna Kapoor and Sameera Iyengar who founded Junoon – A stage for theatre
Sanjna (left) & Sameera (right)
We founded JUNOON because…we wanted to share the
deliciousness and richness of the arts with people across India, and
make it a part of our daily lives; because we believe that a world
infused with the arts is a world that embraces possibility and takes
joy in living with each other.
Our one
learning has been…the power, reach and beauty of true sharing
and collaboration, which allows us to collectively achieve in rich
ways what none of us could have every achieved alone.
Challenges
along the way…developing the structures, systems and
organisational culture that allows us to keep the free creative
spirit alive and vibrant for ourselves and for our collaborators;
funds (of course!);
learning
to lead an organisation as a duo leadership
Our
work has come a long way because…we've had many people from
different walks of life believe in us and our vision, we have an
amazing network of artists who have just stepped forward to take up
any experiment and challenge, we have been lucky to pull good people
into our team who work and contribute with passion and care.
Funding for any organisation… is always a tough call. You
just have to believe you are going to get the funds. The challenge is
not to become someone or something else as you seek funds – the
temptation is often there and you have to have the strength to stay
anchored in your vision and say no to funds. That integrity and
credibility is extremely important in any socially relevant work.
Social Impact according to us is…transforming lives, one
person at a time. Infusing people with a sense of possibility so they
can imagine and reach for their own individual and collective
futures. This means you care about the impact you make in each
individual you touch, you see people as people and not as numbers,
you try to reach as many people as you can, but never at the cost of
the people themselves.
Our thoughts on scaling up…Scaling needs to balance deep
impact with reach to numbers. We keep striving for clarity on what
level of impact is deep enough for the larger social transformation
we desire by connecting people to arts. Scale is also achieved
through collaborations, sharing of resources and data, and through
building and making available models and approaches that others can
adopt. The point is to touch and make a difference to a lot of people
– it does not matter if we do it or if someone else does it.
If we could change one thing about the social sector, it would
be…we take ourselves less seriously and do our work with more
joy in ourselves and others.
Sameera Iyengar
We believe in collaboration…completely! None of our projects
would have been realised or had the impact they have managed to have
so far if they were not conceived and run in collaboration with
like-spirited people and organisations.
The non-negotiables for any collaboration would be…trust,
integrity, willingness to work through differences and
misunderstandings, investment in each other as people,
acknowledgement and celebration of everyone's contribution, sharing
of credit across the board.
Challenges in a collaborative effort are…really sharing
ownership of a project. This has to be done consciously and with
genuineness. The oversights we inadvertently make are often the most
costly mistakes – they can break trust, they can make people or
organsiations feel used. We have to be ready to address this, if and
when it comes up, with true humility and care.
Cross sector collaboration (bw companies & NGOs) is
…necessary, but we need to be clear that what we want to
achieve does not get lost in the companies' agendas. This requires
alertness and a willingness to walk away from money, if it affects
the overall aim of our work.
In my free time we… "I like hanging out with my
dogs, reading, doing jigsaw puzzles, swimming but best of all I like
meeting people and chatting and basking in their company." (Sameera)
"I like to dive into a delicious book, read to my son,
getaways into the jungle and scuba diving into the deep blue, balming
my soul!" (Sanjna)
If I wasn't at Junoon, I would
probably be… "I have no idea – I'd probably come
up with something else that has meaning for me. If India had a better
infrastructure for sports, I may have entered the sports world and
not the arts when I was younger. But the arts deals with people –
who they are, and that's where I like to be." (Sameera)
"I would find some work in
the field of education, some way of staying connected to children and
their holistic education through creativity." (Sanjna)
About
Junoon – we seek to weave arts
experiences into the fabric of society. Working closely with artists
from theatre and allied arts fields, we strive to build a world
imbued with the spirit of the arts, a world where imagination,
inquiry, possibility, rigour and empathy are collectively celebrated,
nurtured and valued. Our ongoing programmes include Mumbai Local,
which offers regular monthly addas with artists and scientists across
Mumbai, and Arts at Play with schools – an immersive 5-day arts
programme in schools where children get exposed to professional arts
practice, engage and interact with artists, attend arts workshops and
end up creating a mad wonderful exhibition that transforms spaces in
their schools with their expression. We are also a Managing Partner
along with the India Foundation for the Arts with SMART (Strategic
Management in the Art of Theatre), a 5-month course in theatre
management to equip theatre groups to strategically plan and manage
themselves more effectively.



This
article is from CAP's Quarterly newsmagazine Philanthropy (Sept – Dec 15 issue). To get your
printed version of the magazine, write to connect@capindia.in