Give And Take – Why Helping Others Drives Our Success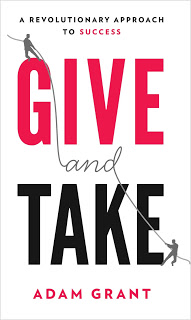 In an ever changing world and one in
which the majority of jobs are now in the service sector as opposed to
manufacturing, a world of increased competition but also opportunities, the
need to find and nurture talent is more and more critical to the success and
growth of any orgnaisation. Whilst many tools have been developed to be used by
HR teams to train, develop and assess employees this book gives us an
altogether new insight into how different people might operate.
This book is
reviewed by Tina Vajpeyi
Working
hard, having great skills and talent and of course a little bit of luck help
towards success but what Adam Grant has researched over the last ten years is
that there is a fourth element which is critical to success and this is how an
individual interacts with others. Success relates not only to individuals and
companies but also to communities impacted perhaps by a politician, a health
care worker or any other person.
Adam
Grants work has led him to identify three traits, givers, takers and matchers
and this book gives interesting insights backed up with case studies, research
and stories of people from diverse backgrounds and how their traits have
affected their careers and positions.
In
his extensive research and analysis he shows that whilst there are some people
who may appear to be givers they are actually takers and there are ways to spot
them and perhaps guide them to correct their methods of work. One may have
assumed that takers who work on a premise of self promoting themselves and
getting what they need from their co workers do get ahead of others. What we
see in actuality is that givers who pay more attention to what others need from
them are ultimately more successful. Interestingly in the early years of their
careers the research also shows they can be the least successful but as their
work leads them to a stage where more team work is required and where their
skills have also become more developed the results become better.
The
method of this book is academic in nature but keeps you turning the pages with
its wide spread of characters and roles they work. It leaves much to ponder
over and put into practice when analyzing our own or the working traits of
others. It shows how people can be
modest and yet influence others but it also highlights case studies of those
who give and yet burn out, unfortunately there isn't a 100% success rate.
Towards the end of the book the section on action for impact gives various
tools and resources that can be implemented to encourage the action of
developing givers.
About the Author
Adam
Grant is the youngest professor at Wharton Business School and has been honored
as one of Business Weeks favorite professors and one of the worlds top
professors under forty. He has also been a junior Olympic spring board diver, a
former record setting advertising director and a professional magician.