Half a Billion Rising – The Emergence of the Indian Woman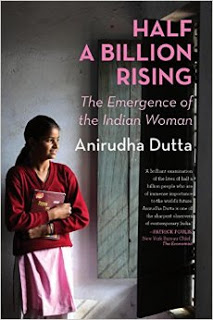 Tina
Vajpeyi assisted Anirudha Dutta the author with some research on his
first book on the changes that are arising due to the changing
mindsets of the female population in India. Here's her review.
Anirudha
is from a financial research background having worked till recently
at CLSA Asia Pacific Markets. What prompted him to write the book
"Half a Billion Rising'were
his observations during the travels that he undertook to different
parts of the country. He saw certain changes and wanted to delve
deeper to ascertain whether the changes were happening at a scale
that will have larger socio-economic implications for the country and
whether India could eventually become a country for girls and women.
Well
one of the stand out changes as he travelled around the country and
thought about his experiences over the last two decades were how at
one time women of any age in villages or small towns would shy away
from being photographed. Now with the advent of the mobile and
changing norms including availability of media young women have no
such inhibitions, they are keen to take selfies and ask strangers a
myriad of questions openly about their life and careers. Why was
there such a huge change in the confidence of these women and what
will it lead to?
I
like the book as whilst it is factual, it flows through the many
narratives of the women and young girls through their own voices. It
reads like a good story one where you want to keep turning the pages
to get further insights. In many of these stories what comes through
strongly is that the current generation wants to live very
differently to their mothers and other female relatives. What also
comes through is that the male population are not in tune with the
changing scenarios.
The
main contention is that we cannot stop the rise of women power and
17% of the world's female population is in India so whilst India
doesn't have a high percentage of women in the work force and they
face discrimination, gender imbalance and violence this has to change
but more importantly it will change. It's a very alternative and
positive viewpoint compared to the one that says women will continue
to be suppressed. Society needs to start adapting to accommodate them
more.
Whilst
we see a backlash from men in the form of gender violence the fact is
that even though men outnumber women, females are not in total a
small number and their voices are becoming louder, stronger and
clearer. Much as men may try to stop them women are in fact doing
better on educational indicators and due to the huge demand for
educated talent in India the growing business requirements will
naturally lead to adapting work scenarios for them.
Dutta
in his introduction writes, "I
want the book to be read by a large audience because I hope it can
help in the change process and also encourage more research and a
better understanding of the opportunities and challenges. I hope this
is the starting point of a dialogue between various stakeholders like
NGOs, social entrepreneurs, government officials, academic
institutions, politicians, researchers, corporates and media on how
to help drive the change and how to handle its implications, both
good and bad."
The
book is relevant for piecing together the big picture impact and
implications of the changes that are happening around us. And from
this big picture emerges the action points for the not for profit
sector as well. If at one end it is necessary to encourage, support
and make sustainable the small not for profit organization or a
single social entrepreneur working in one locality or with one
community, it is equally important at all
levels to coordinate and work with policy makers to start a drive
towards socio-attitudinal changes in this country.
For
example, as Dutta argues it is not enough to build toilets (although
it is very essential), but to drive a socio-attitudinal change that
will encourage people to use toilets and also to maintain them.
Leaders in the not for profit and social sector, for example, can
drive policy intervention to ensure that every skill development
certification by any ministry of the government of India or any state
government will have a mandatory module on gender sensitization. And
this training should be a part of any teacher qualification
curriculum, student vocational training, police-training academy, IPS
and IAS academy.
The
book gives insights into the areas of work that need to be expanded
and strengthened so that more women can live equitably, healthily,
safely and independently.
and
as one of the highlighted statistics states if we get our female
employment rate up to the level of men (from the current 33% to 83%;
more equivalent to the west) this alone will add 27% to the GDP of
India.
Along
with that we would increase maternal and child health indicators thus
reducing the cost of healthcare in India.
An
India that we should all look forward to, and one where boys need to
be raised very differently to deal with the changes that are going to
happen because of women power.
(from our column Book Review –
CAP's quarterly newsmagazine 'Philanthropy' Q1 April – Jun 2015 )