Getting to Know You – Rati Forbes & Martina Fernandes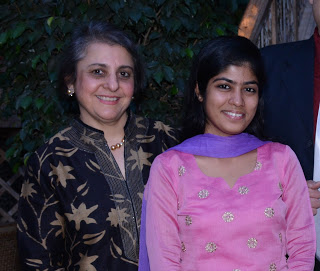 At
the request of many of our readers who wanted to know more about the
people at CAP, we are starting this new column. Rati Forbes, our board
Chairperson & CAP's most engaged board member and Martina
Fernandes CAP's youngest and creative staff member interview each
other.
M:
As a child what were your dreams and what was your passion, were they
fulfilled? Who has been your inspiration?

My
mother was always my role model; as a human being (for the values she
embodied and lived; as well as for her care and thought for everyone)
and as a professional (I always heard about her competence and skill
as a doctor and how all her patients and their families respected and
adored her). She was always my inspiration – from as long back as I
can remember. Thus, as a child, I wanted to be a doctor (she was a
very eminent paediatrician).
As
a teenager I realised that science and math were not my strongest
subjects – so very naturally and with no regrets, this dream
vanished. After this, I didn't really have a clear career path in
mind, for quite a while; but one overarching passion since my
adolescence was to work somewhere, where I could be of service to
others. As a teenager, I began volunteering at Samaritans – an
organisation which worked with people who had mental health issues.
All through college, I volunteered with the Social service league,
mainly working with the blind students.
M:
In your opinion is a professional degree essential or is practical
knowledge sufficient?
R:
I think the right professional degree from a credible good
institution provides a solid foundation to any career. The final
paper degree certificate itself is not as important or as useful as
the process one goes through to attain it – the study, the reading,
writing, the thinking and discipline – these are all key parts of the
learning and really help in all spheres of life. A combination of
both theoretical and practical knowledge is very powerful.
M:
How would you grade an employee, by quality of their work or quantity
of work?
R:
I would certainly give higher weightage to the quality of work a
person does, rather than the quantity.
M:
How do you keep yourself calm after a day full of multitasks?
R:
I am a great believer in meditation and prayer; I try and practice a
bit each day. This helps me stay grounded and centred, it makes me
look at issues in perspective; more often than not, we unnecessarily
magnify small issues. Finally, it helps me look within – and most of
the questions I am seeking are answered.
M:
If you had the chance to start your career over again, what would you
do differently?
R:
I have truly enjoyed everything I have done so far, wouldn't like to
change anything – except that I would have liked to have pursued my
Masters degree a bit earlier in life (I graduated only last year from
Cambridge university UK with a Masters in Sustainability Leadership).
Perhaps I would also have liked to have a formal degree in finance
management; but it is never too late and I may still sign up for a
course which offers this !
M:
Is Change necessary in work for sustainability of the organisation?
R:
As the old cliche goes, change is the only constant – and it is the
same for every organisation. Change is necessary for the growth,
development and naturally organisation sustainability too.
M:
What do you do in your non-work time?
R:
There are quite a few ways I relax – the times I enjoy the most are
spending quality time with my husband and children; and singing once
a week with my choir.
Rati
Forbes (L) with Martina Fernandes (R)
R:
Can you tell us about your childhood or growing up years, as well as
a bit about your education?
M: Childhood was blessed,
cheerful and memorable, As the first child in the family I was very
lucky, I got all attention, love, everything that I asked for. In
regards to education my parents are very proud and happy as I am the
first child who completeD my education which was beyond their
expectation.
R:
During those formative years, who was the person who was the greatest
influence in your life and why?
M:
The person who was the greatest influence in my life was Mr. Sanjay
Bhattacharya (artist) because He is the first person I met with a
clear and big heart with zero pride. A person from whom I learn
"survival of the fittest"
R:
Tell us about some special talents or skills you have, which not many
people know about (or otherwise a hobby which you pursue)
M:
I love painting (fabric / glass etc.) and trekking
R:
What would you consider to be important learning for you –
while you have been at CAP?
M:
I have been more mature than earlier, started recognising the nature
of work and how to priories, the most important value time
R:
If there was one aspect of your life you would like to change; what
would that be – and why?
M:
No I wouldn't like to change any aspects of my life as I am truly
blessed and satisfied & content with all that I have.
R:
What do you consider your greatest accomplishment to date (either
professionally or personally) and why do you think it is so?
M:
Professionally – My greatest accomplishment is confidence cause I was
never exposed to a NGO world, never travelled for work, never
communicated with larger audience. Personally – Never thought of
converting my passion of mehandi & rangoli into my own small
business 'Martina's Creatives'.
R:
Can you give us a description of your role at CAP; and what are the
areas of work you enjoy the most?
M:
I would like to describe it as – that smallest screw in a huge
machine that is as important as the rest of the big pieces OR that
link between the train carriages that helps pull the entire train
along.
(from our Getting To Know You column –
CAP's quarterly newsmagazine 'Philanthropy' Q1 April – Jun 2015 )