CAP's Compliance Complete Certification – Deep Griha Society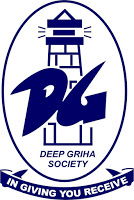 CAP's latest endeavour in capacity building has been the expansion of our services to include Compliance Certification for NGOs. Through this programme, NGOs will work with CAP towards being
compliant in the following core areas – Legal, Financial, Human
Resources, Board Governance, Communication, Strategy, Fund-raising, and
Volunteer Management.
Featuring the second of the 4 NGOs selected this year.
Aims to uplift the marginalised through holistic development of
the community by addressing areas such as Education, Medical & Healthcare,
Skill Development and Shelter & Nutrition.
We decided to join the Compliance Complete Programme… to ensure
that we are legally compliant and following good governance standards as
recognised by the government, other organizations and companies.
Our vision…Empowerment of
the marginalized through capacity building and sustainable rural & urban
development programmes.
Our greatest strength…The
good will through the relationship we have with our communities as a result of
the work Deep Griha Society has carried out over the last 40 years.
Our challenges…Incorporating
information technology into the work we do and building capacity of staff members
working at Deep Griha Society.
Our team interprets compliance as …Having
a more efficiently run organization which would result in more effective
programmes for the marginalised communities we serve.
How can you best reach your target audience…To incorporate technology wherever possible in
our work so that monitoring and feedback on efficacy of services is easier to
get which will create space for continuous improvement.
Two
changes which you would like to observe in the philanthropy space…a) The
efficacy and image of NGOs and Not-for-Profits in the social sector. b) An
increase in the incorporation of information technology as a means to measure
impact.
Where do you see your organisation 15 years hence…A premier Not-for-Profit providing relevant
support services to marginalised communities across Pune district.
An instance within your social work which created a sense of pride
for you…Walking through the community and
having people talk highly about Deep Griha Society, when they do not know you
work for the organization.
"If your
organization would like to avail of this certification in FY 2017-18,
write in to us at connect@capindia.in. Interviews will be held in May
2017"