CAP'S Compliance Complete Certification – Apnalaya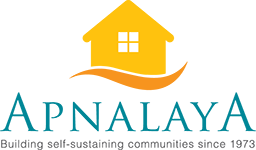 CAP's latest endeavour in capacity building has been the expansion of our services to include Compliance Certification for NGOs. Through this programme, NGOs will work with CAP towards being
compliant in the following core areas – Legal, Financial, Human
Resources, Board Governance, Communication, Strategy, Fund-raising, and
Volunteer Management.Featuring the first of the 4 NGOs selected this year.
Apnalaya-'Our Space' in English,
is a non-profit organization, founded in 1973.
We work with the most marginalized people living in highly under-served
slums of Mumbai
Why we decided to join
up for Compliance Review.. We consider it important to review our methods
and practices, given the changing eco-system and newly introduced rules and
regulations
Our
organisation was founded with the philosophy… of reaching out to the
most under-served
Our greatest strength… lies in our holistic
integrated community development approach, where the community participates in
its development.
Our challenges… We work (a) in M-East
ward, Mumbai, an area which has Asia's largest and oldest dumping ground. It is
a mountain of health hazards, with a set of migrant population that is
highly disenfranchised and in an environment where micro intervention focus,
not sustainable holistic community development, seems to be the flavour of the
season.
How we interpret compliance…
Compliance for us is like basic hygiene practices. It's a habit.

What are your organization's most
promising programs… Health, Livelihood, Education and
Citizenship – all are our promising programs.
Key indicators by which you
measure your impact… Number of families and individuals who feel
empowered to address issues related to Health, Education, Disability,
Livelihood and basic entitlements
How has your organization
changed over the last 2-5-10 years… We have further developed
Results Based Management system. The program has reduced the service provision
components to negligible levels. The beneficiary base has expanded to include
all age groups especially the 7 to 14 years age group which whom interventions
were not as intensive. The geography has
expanded from 12 clusters to 31 clusters, serving a beneficiary base of 280,000
(from 65,000 earlier)
Two changes which you would like to
observe in the philanthropy space… A better understanding of and
a greater commitment to social processes of change. A departure from the framework of a
"Giver" to greater accountability and self-monitoring vis-a-vis one's
responsibility towards social welfare
"If your organization would like to avail of this certification in FY 2017-18, write in to us at connect@capindia.in. Interviews will be held in May 2017"