A Grantmaker's Perspective of Good Governance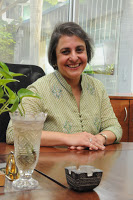 "The
definition of good governance is itself nebulous," says
Rati
F. Forbes of Forbes Marshall Foundation & CAP's Chairperson
My
interest in governance was aroused by a series of personal
experiences, as well as my own family background. My father was the
first Commerce Minister of India in the Interim Cabinet of 1946,
where ministers were jointly selected by Pandit Nehru and Lord
Mountbatten for their competence, skills and ethics. He often spoke
of "those times" – where working for the government was seen as
the best way to serve the new country. This was a job that carried
much respect and dignity. Unfortunately, that has since changed.
Today,
governance is much more a part of our vocabulary – largely because
we believe that those in government jobs are delivering much less
than our expectations. Why is there so much official apathy and lack
of accountability? Why do citizens continue to live in such abysmal
conditions, without the most basic amenities? Why do our public
systems not function the way they should? These are questions we all
ask ourselves from time to time. As a response, the social and
private sectors have stepped in along with civil society; and a
growing number of funders and development agencies have begun to
understand the importance of nurturing and supporting them.
Personally,
the culture of giving back has been a consistent thread in my life;
professionally, our company Forbes Marshall has a strong ethos of
supporting social programs in neighbouring communities, particularly
initiatives in the education and healthcare space. When we set up our
Foundation a few years ago; we decided to work across Maharashtra and
reach out to a much larger audience; being mindful of outputs,
outcomes, timelines and sustainable impact.
Working
now on a larger canvas; more often than not, challenges in the area
of local governance seemed to slow down the best-intentioned efforts.
A stark example of this was the issues we ran into, while partnering
with a local NGO; bringing better sanitation practices to an urban
slum community.
While
we had effectively galvanized community support to make part
contributions for the infrastructure, and worked with local women to
help spread the message of eradicating open defecation; it was
depressing to find large parts of the "basti" (settlement) had a
failing drainage system, corroded sewer pipes, very inadequate water
supply and a well-established "water tanker lobby" operating.
Working with various local political agencies was the only way to get
the project moving; but hugely challenging, frustrating and time
consuming, to say the least.
Given
these on-the ground experiences as well as our growing understanding
of the complexity of India's problems, we realized that working on
social verticals in isolation is incorrect. Rather, the government,
business and civil society must work in tandem, to create
developmental change.
Entering
the governance space with some trepidation about two years ago, my
colleagues and I quickly saw the positives when supporting
organisations and individuals. We realised that when elected
officials are central to any change effort; longer-term solutions
arise, benefitting large sections of the target population. We saw
this while supporting Swaniti, an organization that encourages bright
young people to get involved in governance, by working on projects
along with MPs and MLAs in their constituency. Our support, in
monetary terms, hasn't been huge but the impact and change at the
constituency level, as a result of the one-year Fellowship has been
tremendous.
Among
the other lessons we learned along the way is the virtue of patience,
and the need to look beyond short-term solutions. We learned that
well thought through approaches are worth investing in, leading to
sustained outcomes.
On
a more cautious note, we have realised that grantmaking in this area
comes with its fair share of challenges.
The definition of good governance is itself nebulous – should we
prioritise decision making, implementation, transparency and
accountability, dissemination of accurate information, or some
combination of these?
Often,
benefits are slow, intangible and hard to quantify; understanding
impact and measuring results, as most grantmakers like to do, is
therefore difficult.
Additionally, with several worthwhile organisations working in this
vast space, on very diverse themes; who should be supported, why and
how?
Finally
and rather sadly; potential grantmakers seem reluctant to support
this sector, lest they appear biased or are perceived to be
"anti-government". I once had similar concerns, but they
gradually faded away as I met the many fine organisations working in
this space and understood their approaches and thoughts.
I
was inspired, listening to charismatic young people who have given up
lucrative careers to work in this system; fleshing out new ideas on
how, among other things, they could use technology and social media,
to drive social change.
By
its very nature, governance is cross-sectoral, which means that when
it works well, it is a confluence of best practices from health,
education, gender, and other major sectors. Collaboration across
themes, particularly in this "sector", is key to success. Some of
the finest examples of impactful giving I have come across are where
skills and competence have been shared, where individuals have helped
build the capacity of NGOs and government officials. This has
produced amazing changes in work output, leadership skills, attitude
to citizenry and overall outcomes – with little or no money spent.
Over
the last few decades, Indian donors have been drawn towards safer,
more traditional social initiatives such as education and healthcare.
While these sectors no doubt deserve support, it is vital for us to
now direct our attention to governance and plunge into uncharted
territories.
We
continue to believe and expect our social initiatives to succeed in
spite of the government, not because of it. In a country like India,
with our depth and complexity of human development challenges, we
cannot ignore or work around the public sector – the sector that
is arguably the best funded, scaled to design and implement social
reform. Indeed, it's a lost opportunity if we do not put our focus,
drive, and not just financial but human resources behind
strengthening governance issues and rebuilding our public sector.