Why are some 'foreign contributions' not getting credited at SBI NDMB

Several organisations registered under the Foreign Contributions Regulation Act 2010 (FCRA) have reported that funds sent by overseas donors are not getting credited to their Designated FCRA Bank Account at the State Bank of India, New Delhi Main Branch (SBI NDMB). This is due to a Notification issued by the Reserve Bank of India (RBI). What one should do to mitigate this issue faced by donors as well as recipient organisations in India?

What does the RBI Notification say?
RBI's Notification dated February 16, 2023 sent under the signature of the Chief General Manager to the Chairman / Managing Director / Chief Executive Officer of all RBI member banks participating in NEFT and RTGS Systems states: "The contributions to the FCRA account are received directly from foreign banks through SWIFT and from Indian intermediary banks through NEFT and RTGS systems."
The Notification adds: "In terms of extant requirements of Ministry of Home Affairs (MHA), Government of India, the donor details such as name, address, country of origin, amount, currency, and purpose of remittance are required to be captured in such transactions and SBI is required to report the same to MHA on daily basis."
Keeping in view the above, necessary changes have been introduced in NEFT and RTGS systems, technical details of which are provided in Annex to RBI's Notification. RBI Member banks are required to incorporate necessary changes in their core banking / middleware solutions to capture the requisite (donor) details while forwarding the foreign donations through NEFT and RTGS systems to SBI.
RBI's instructions are effective from March 15, 2023.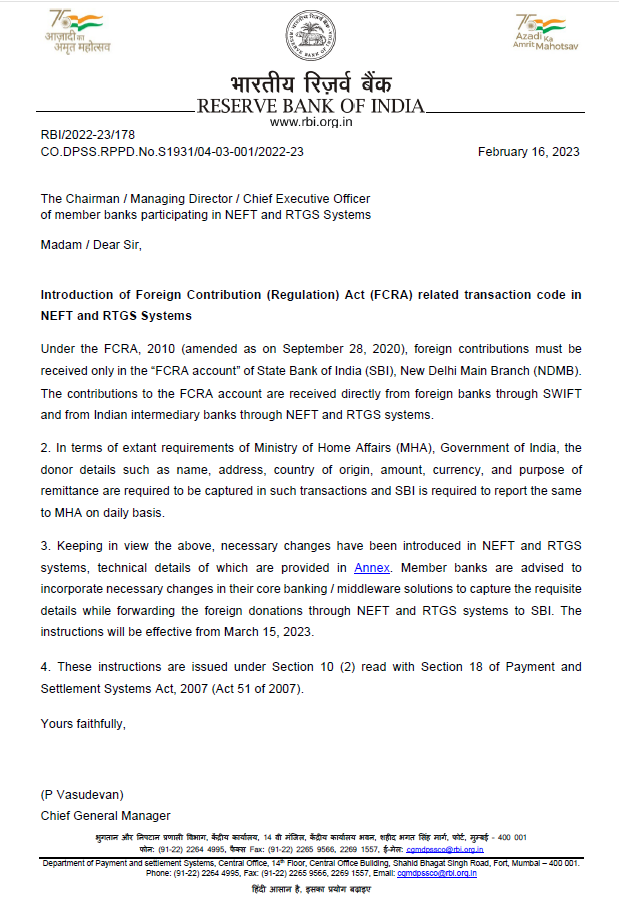 Root of the problem
Unfortunately some banks have not upgraded their software and hence SBI NDMB returns payments if donor details such as donor's name, address, country of origin, amount, currency, and purpose of remittance is not included.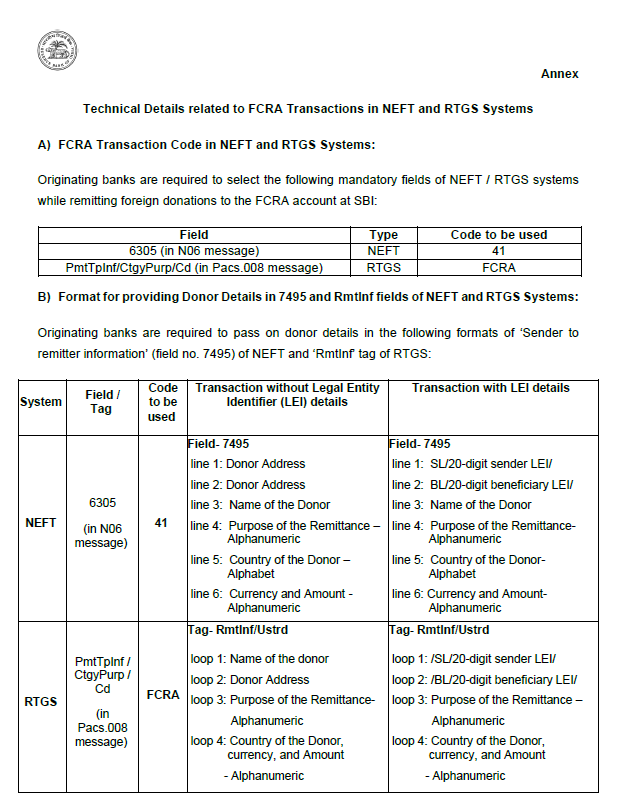 Fund transfer using SWIFT system
The Society for Worldwide Interbank Financial Telecommunications (SWIFT) system powers most international money and security transfers. SWIFT is a vast messaging network used by financial institutions to quickly, accurately, and securely send and receive information, such as money transfer instructions.
It is observed that SWIFT transfer of funds made by overseas donors directly to the NGO's designated FCRA Bank account at SBI NDMB goes through quite easily since the sender's (donor) details are captured under the SWIFT system of Banking. However, if the overseas donor transfers funds using a correspondent bank or intermediary bank in India which has not upgraded its software, the transaction gets rejected by SBI NDMB.
Recommendation
Till such time as all correspondent banks and intermediary banks in India update their software, overseas donors should consider transfer of funds using SWIFT directly to the recipient organisation's FCRA designated bank account with SBI NDMB.
The SWIFT code is SBININBB104