CAP Newsmagazine Editorial (Q3 Sept – Dec)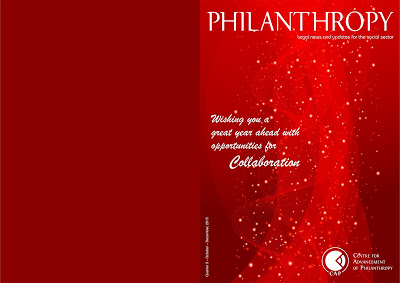 The Editorial from our latest issue of the newsmag Philanthropy
EDITORIAL -DEC 2015
The theme of this issue of Philanthropy
is 'collaboration' and while leafing through our archives we
found a report of the WINGS Forum 2002 held in Sydney, Australia
where the theme was "Philanthropy in a divided world — Thinking
globally – collaborating regionally". By a strange coincidence Noshir Dadrawalawas once again in Australia this December at an
exploratory workshop on philanthropy research in the Asia-Pacific
Region on the Swinburne University Hawthorn campus in Melbourne. The
object of the workshop was learning and sharing of experiences and
explore possibilities to collaborate in an effective and sustained
manner.
We, at CAP, have always believed in the
power of collaborative action and we run it across all our four
verticals. Where our legal advisory services are concerned we
collaborate and depend on the expertise of leading law firms like AZB
on issues such as labour laws, whereas on issues like VAT &
Service Tax we collaborate with Khare and company. When it comes to
outreach of our expertise in CSR compliance we collaborate with
institutions like CII and the National CSR Hub at TISS. Even where
capacity building and research is concerned we make the process
inclusive, drawing the best talent from the sector in order to
leverage effectiveness of our programs.
But, collaboration must be based on
equity in order to be effective.
In the meantime the Ministry of Home
Affairs has issued a Notification with regard to amendments in the FC
Rules and various new forms. Please follow our blog for periodic
updates.
Editor – Noshir Dadrawala
CAP ARCHIVES
From our Archives (CAP Newsletter
March-April 2002)
Philanthropy In A Divided World
– Thinking Globally – Collaborating
Regionally
WINGS Forum 2002 was held 10-13 March
2002 in Sydney, Australia. Mrs. Pushpa Sundar of "Sampradaan" and
Mr. Noshir H. Dadrawala of the Centre for Advancement of Philanthropy
represented India at this forum. Dadrawala was one of the panelists
at the lunch plenary on 12th. March, moderated by Barry Gaberman,
Senior Vice President, Ford Foundation,. Dadrawala spoke about the
challenges facing the voluntary sector in India, the excessive
dependence on foreign aid and issues of good governance.
WINGS Forum 2002 aimed to contribute to
the enhancement of the capability of the associations and support
organizations serving grantmakers in more than 60 countries to
promote and support philanthropy at the local, national, and
international levels. It focused on four issues:
Institutional Development
(membership, governance, and emerging associations)

Financial Sustainability

Public Relations (working with
governments, communication strategies and information technology,
and promoting philanthropy)

Legal and Regulatory Reform

(L to R) Barry Gaberman, Senior
Vice President, Ford Foundation, Marcos Kisil, President, Institute
for the Development of Social Investment, Monica Mutuku, Director and
CEO, Kenya Community Development Foundation and Noshir Dadrawala,
Executive Secretary, Centre for Advancement of Philanthropy, India
Ambassador James A. Joseph, President
Emeritus, The Council on Foundations, USA spoke on the theme,
"Philanthropy in a divided world, thinking globally – collaborating
regionally". He felt, it is in the progression from private acts of
compassion to the idea of collaborative action that we come to grips
with many of the new realities of private philanthropy. One of the
most prominent and most over-used examples of the charitable impulse
is the story of "the Good Samaritan" in the New Testament of the
Christian Bible. A traveller stops to give aid and comfort to a man he
finds badly beaten on the side of the road. While this individual act
is to be lauded, what happens if every day for a week the traveller
finds someone beaten at the same spot on the road? Wouldn't he be
obliged to ask who has responsibility for policing the road? In other
words, what starts out as a private act of compassion invariably
leads to the more strategic question of collaborative action and
public policy?
A printed copy of our CAP quarterly newsmagazine is available free. To request your copy please email us – connect@capindia.in