A Tale of Two Accounts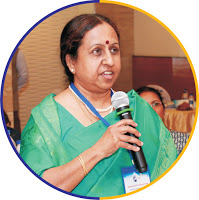 Our CAP member shares her story in her own words.
I wanted to relate
to the readers – an incident that we encountered with a Bank, very recently. It
makes us feel that we need to be on our toes and be ready for Murphy's law
absolutely anywhere. It may be a bit long, but I think it IS important and may
be of use sometime for another non profit – Vasumathi Sriganesh, Quality Medical (QMed) Knowledge Foundation
The problem – Our FCRA Account in the Bank was
recorded in their system as a regular Trust Account, ever since we opened it in
2011.
How
did we find out this?
We received a donation into our FCRA account – an amount of USD 255.
This was from a crowdfunding campaign, where three foreign sources had donated.
The crowdfunding platform gave us the donation in the name of their sister
concern in the US.
The Bank wanted us to write them an email telling them about the
donation and also giving the address, email id and website of the organization.
We did this.
Next they wanted us to fill a form called – "disposal instruction
"and we did that too
A few days later I got a call from their foreign exchange department
saying that QMed needed an FCRA Account, and ours was only a regular Trust
Account, and that they could not credit this $255 into our account
I told the gentleman that we had both accounts with them. He read out
our FCRA Account No and said that "in their system" it is registered
as a Trust Account. I told him I was unaware of
the Banks' Systems, but that OURS WAS INDEED AN FCRA ACCOUNT. I also told him
that we had been receiving donations in the account from abroad – definitely
since 2013, if not since 2012.
I also told him that both accounts had a common
Customer ID and I was wondering how the Bank never caught this problem earlier.
My guess was that when we were applying for the FCRA Account, we needed a bank
account and had opened it as a second Trust account, (but with – FCRA added at
the end, for clarity). Once we got the FCRA registration, we sent a copy to
them, and informed them. They had not changed our status to FCRA Account!!
I then opened a statement from the account and told
him – that the name clearly reads as "Quality Medical Knowledge
Foundation-FCRA"
​I also told him that I had been filing FCRA Annual Returns and recently
renewed our account too. I sent him screenshots of the FCRA Website, which
showed that we were listed in there.
He then said that he would once again check and ask
me if he needed anything more.
​Two or three days later, we got the same explanation – that in their
system we were registered as a Trust Account and not FCRA, and could we fill in
a form asking them to change this status. ​We refused – saying that if we
filled such a form and signed it, that was tantamount to admitting that we
never had an FCRA account all these years, and were still receiving foreign
funds!
​My husband Sriganesh, went and met the Operations Head in our branch
and explained everything. She then asked the Head office, and they finally said
they would do the change, but wanted one letter from us, declaring that ever
since we opened​ the account, all donations that came into it were only from
foreign sources. We agreed, only because the Ops Head had been helpful.
Finally today, the
amount has got credited! The whole process took almost a month.
Why did the Bank never raise the question before?
Our earlier donations – from GlobalGiving and also from one individual
apparently came through a routing channel, by which the final money came in
Rupees. This time it was in USD and that made them open their eyes.
Our contributor Vasumati is the founder of Quality Medical (QMed) Knowledge
Foundation – a Registered Trust – works in a niche area of medical
education and research: "Searching medical literature, and reference
management"
If you have an article or something to share with our readers send it in
for our next newsmagazine due in June 2017. Write to us at connect@capindia.in