To MAKE INDIA CLEAN I WOULD TEACH MY HAND SOME MANNERS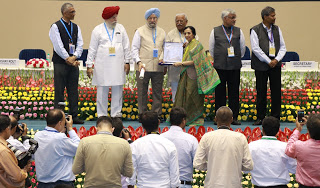 Recently CAP member Viney Kirpal of GREAT Foundation, Pune wrote this essay that won her a National Award in the
Senior Citizen category from among 12408 entries submitted by 29 States during
the Swachh Bharat Abhiyan celebrations.
The function was inaugurated by the Prime
Minister on 2 October 2017 at the Vigyan Bhavan in New Delhi. The award carried
a citation, a shield and a cash prize of Rs. 75,000/-. The essay had a word
limit of 250. Hope you like it. It is very simple.
Receiving the award from MOS Hardeep Singh Puri and MOS Shri RC Jaggajigni Onlooking is MOS SS Ahluwalia
As a
child I observed my Mother would never throw down anything on the pavement.
Like her, I carry home a banana skin, a used paper napkin if I cannot find a
dustbin. Everyone thinks they are the only ones flinging out a tiny piece of
uneaten apple out of the car window. But when many hands do that, it becomes a
smelly heap.
Cleanliness
is about consideration for others. It begins with each hand vowing not to
litter. If we could adopt just this one habit and pass it on to our children
and grandchildren, we could make a huge contribution to a clean India.
A
beautiful deep blue gorge strikes a note of dissonance when empty coke cans,
used paper, plates, dirty rags, chucked into its waters by careless hands, are
seen stuck among the romantic boulders. Do those hands even once think of the
damage they are doing to the environment? If I want a clean India I must teach
my hand a little discipline, a little responsibility. It takes just one hand –
my own- to behave mindfully to keep my country clean. If 1.3 billion hands
acted with consideration towards our plains, hills, valleys, waterways our
Bharat would develop a swachh siddhi.
Cleanliness
is next to godliness. There is peace in cleanliness. If the collective hand of India
stops littering, garbage mountains wouldn't rise. The power of the hand is
enormous. I would teach my hand some manners to make India clean.