How We Evolved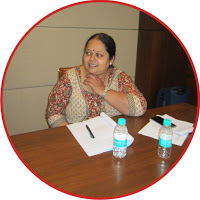 Keeping in mind the theme for this newsmagazine, we asked few CAP members at our HR workshop to share their experiences on how they evolved in the careers & professional life. It was interesting to note that the social sector seems to have evolved enough to attract those from a corporate background to cross over.
Jyoti Patil
Shah
After
completing my Post Graduation in Counselling I was offered a job as a
counsellor at Canossa Convent High School, Mahim. This was an actual eye-opener
for me as it gave me a hands on lesson about how in reality people handle their
difficulties and how they justify with what happens to them. A friend's
connection got me to V Care. A choice had to be made between an International
School and V Care, a challenge with a change is always welcomed. It has been a
journey of learning and to really count blessings! School was more grounded
more structured; V Care keeps you on your toes 24×7. At a personal level
evolution has taken shape through immense exposure and still learning something
new.
Jyoti Patil Shah,Volunteer, V Care Foundation
_____________________________________________________
Rajendra Aher
My
first job was at Bhartiya Samaj Seva Kendra Pune, a state level Adoption
program. My role included pre and post adoption visits to the families who
desired to adopt a child through our program. While doing this, I experienced
the feelings of the parents, who don't have a child as well as the importance
of good upbringing of a child in such families. This job not only gave me
satisfaction but also motivation for my life. I also understood the importance
of confidentiality.
I carried
forward this experience to my next job at Deep Griha Society at Pune. Since
1991 I have worked on different projects and from April 2016 was promoted as a
Project Officer. The roles have grown and so have I. In my first job our focus
was only on adoption and through Deep Griha it has evolved – here the focus
is wider in areas such as Community development Child
care, Women empowerment, Youth development, Medical, DISHA (HIV/AIDS) etc.
Rajendra Aher,Project Officer,Deep Griha Society
_____________________________________________________
Anjali
Teredesai
I worked
in Bhagini Nivedita Sahakari Bank for 31 years. Our bank catered to all but was
managed only by ladies. I joined there as a clerk and during a period of time
was promoted up to Branch Manager. This job developed my personality a lot. I
have worked as a staff director for 8 years. I gained wide experience by
working with different profiles of people, so I could share various problems of
the people as well as staff. This job gave me gratification.
I heard a
lot about Deep Griha Society, so after my retirement from the corporate sector,
I thought I can do something for the community by working with a non-profit. In
my previous job I worked with only a specific class of society and today my
personality has developed further and I work with community workers with the
same ease.
Anjali Teredesai,Deep Griha Society
_____________________________________________________
Dr. Ponissery Jayarajan
Post my MBBS I was looking for a job
in a multi-specialty hospital to hone my skills. My first job was in a
multi-specialty hospital in Thrissur District, Kerala. Everything I had hoped
for and more. – GREAT. I had planned to be there for a year, but I
stayed for more than two years.My entry into the social sector was
by accident through my friend, who invited me to join an NGO. Since it was the
change I was looking for, I moved from Medical Officer in the Casualty of a
Multi-specialty hospital to NGO- Alpha Palliative Care services as a Resident
Medical Officer.
After 14
years and in the private sector, I moved to the social sector in 2008. The main difference between the two
is the approach by the medical personnel. There is a paternalistic relationship
where the medical community including doctors, nurses will always instruct the patient and family
to follow what they say. Most of the time they would not entertain questions
nor tolerate any non-compliance in the treatment plans. In the social sector
(Palliative care) there is more of an equal partnership between Medical
Community and the patients, more humane
and they form a partnership to develop an individualized treatment plan
suitable to the patient and family.
I have evolved into a better person
and professional with tremendous patience and tolerance,a better
communicator, learned to accept failure and how to deal with it.
Dr. Ponissery Jayarajan,Chief Medical Officer, The Jimmy S Bilimoria Foundation
_____________________________________________________
Regina Khurana
My first job was as an HR Associate
in a corporate. I loved it – I was fresh out of college and had so many
practical things to learn! I then took a break to start a personal venture,
which helped expand my horizons professionally and personally. When I decided
to join the workforce again, it was in the not-for-profit space (more accident
than choice – but I'd like to think of it as serendipity). I sense a passion
and commitment here for that was missing before. Personally, I notice that both
I and my family have become kinder, more inclusive, and more compassionate.
Regina Khurana,Assistant Manager – HR, Ummeed Child Development Center
_____________________________________________________
Aparna
Joshi-Khandwala
My
first job in 1998 was a very comfortable experience. I was privileged to be
associated with the MD's office of a large pharma company to manage
housekeeping and basic administration. But the role lacked challenges and hence
I decided to look for a better opportunity. I transitioned into an HR role very
naturally due to my interest and skills. There was no looking back after I
joined EmmayHR in 2002. I worked here for over 7 years during which we
transitioned from being a small local recruitment firm to be world's largest HR
services company, now Randstad India. I grew from managing administrative HR
activities to eventually strategic HR management and worked closely with the
founders and management teams. I came across a volunteering opportunity during
my first career break during my maternity sabbatical in 2009. That's when
I realized how blinded I was in the corporate sector ignorant of issues in our
immediate society country at large. I joined iVolunteer to structure human
resources and lead JobsForGood, a leading recruitment service provider to the
social sector. It continues to be an immensely satisfying journey in the sector
since 2009. I founded a management consultancy, Yellow Spark in 2014
which helps organisations to become aspiring workplaces.
Aparna Joshi-Khandwala,HR Consultant, Yellow Spark
"To be featured in our newsmag write in to connect@capindia.in"