Getting to know you – Meet Madhura Yellapurkar And Arnaz Bhote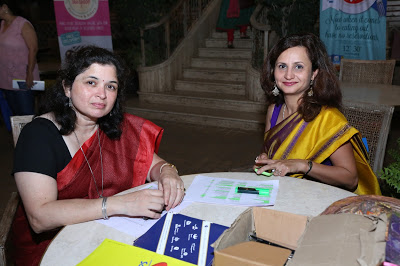 Arnaz Bhote and
Madhura Yellapurkar recently joined CAP. While Madhura has taken over the reins
of the accounting and office admin, Arnaz supports the programme functions.
Read on to get to know them as they interview each other.
M: After having worked
in corporates for 15 years – how different is the experience in the social sector?
A: Working in
the social sector is far from the glitzy corridors of the Fortune 500 companies
I have worked for. Employees in non
profit organizations sometimes "have to take it on faith "that the work they
are doing day to day is contributing to a larger, more important goal.
The opportunity to learn new skills and gain experience
in areas I haven't worked in before are many due to fewer resources. Whether it is a natural disaster half the
world away or a donor down the street wants the organization to think bigger
about its programs, many non profits have employed new thinking, technological
advances and a more entrepreneurial approach to become agile, adept and be prepared.
The best advantage is that it simply feels right to me to
work for something, where I believe I can make a difference!!
M: What according to
you is an important aspect of parenting?
A: Learning to "let go" and there is no "right
time" to do that. Our children need to
experience life and the only way they can do that is by walking the path and
discovering things for themselves and valuing the lessons they learnt along the
way. As parents we can be their "light houses" nothing more.
M: In your travels
which country/city you enjoyed the most and why?
A: I was in awe of Isfahan, which is one of the
most beautiful cities in Iran. It
features numerous tree-lined boulevards and flower gardens, miles of beautiful
parks along the Zayandeh River; 1300 year-old covered bazaars, bridges,
palaces, mosques, and minarets. It is
also called nesf-e jahān meaning half of the world.
M: If you had not taken up a desk
job and become a teacher instead – how do you think you would have fared?
A: Teaching needs you to be patient and calm
and keep repeating yourself until you are understood. Unfortunately patience is
not my virtue. So had I been a teacher I would have been called to the
Principal's office frequently….!
M: Which type of movies do you like?
A: I am a movie buff and watch all genres of
cinema. I love watching Thrillers and Prison Break movies as the edge of the
seat drama gets my adrenalin pumping!!
M: What is on your
wish list from Santa?
A: A Little smile, a little cheer a bit of love
from someone dear…. It doesn't matter what we eat, what presents we get as
long as the holidays are spent with our loved ones – My wish is to spend my
holidays with my husband and kids because the love of a family is life's
greatest blessing!!
M: You have relocated
to Bombay –how have you adapted to the change?
A: Any change is difficult and especially after
you have lived in a place for 20 years. Relocating from Pune, my work, friends,
relatives, and the favourite haunts and the memories and trying to rebuild all
that in Bombay was a daunting task. I think while I physically made the move I
was fighting it internally for a long time.
But Bombay is a city that just envelops you in its fold and gives you
opportunities and possibilities that one has not had before. I love the city and the buzz that comes with
it.
A: What inspires you to work within the social
sector? What qualities does one need to work in this sector?
M: Motivating and spending time with people and
seeing happy faces at the end of it all inspires me to continue my work in this
field. Despite the lure of a higher salary and a better working atmosphere in
the corporate world, I find my job here very fulfilling. According to those who
know me, my cool temperament coupled with my passion and dedicating my 100% to
everything that I do, makes me an ideal
candidate to work in the social space.
A: Who has inspired you in your life and why?
M: My daughter Mrinal inspires me in my
life. From her childhood she had the
dream of pursuing a career in dance. As
she grew up this dream turned into a reality and she choose the profession of
Bhartnatyam as her livelihood. She completed her Masters in Performing Arts and
joined tutelage under Guru Vaibhav Arekar who is a well known Bhartnatyam dancer,
for performances. I admire my daughter's determination for making her passion
into her work. This profession may not
pay her so well but the creative satisfaction she derives out of it is
unmatched and unparalleled.
A: What do you do in your free time?
M: I volunteer at Ameya Palak Sanghatana (Gharkul)
which is an organization for mentally challenged individuals. The organization
takes care of these people from the age of 18 years till end of their lives, as
some of them are abandoned or parents are incapable of providing special care
to them. I spend time teaching them,
telling stories and helping with the cooking of meals in the kitchen from time
to time.
A: How does classical
dance compare to other styles of dancing?
M: Classical
dance is the basis of all other dance forms. If one is adept with classical
dancing then learning other dance forms becomes easy.
A: What is the
funniest thing that has happened to you recently?
M: I went
to watch this comedy movie in Marathi called 'Vazandar'. The story was about 2
friends and their issues with their weight and the comic situations they got
themselves into. I found the movie very hilarious and could not stop laughing through
it.
M: I would like Santa to gift me a Spa Holiday
Package for 10 days. This will ensure that I have a relaxed and refreshed
festive season and come back to work all guns blazing!!
"To join as a CAP affiliate contact us on connect@capindia.in"