GETTING TO KNOW YOU – Bahram Vakil and Meher Gandevia-Billimoria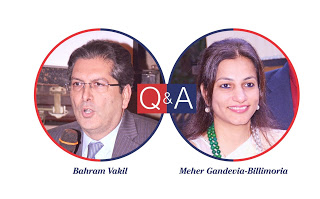 At the
request of many of our readers who wanted to know more about the
people at CAP, we feature one board member and one staff in this
column. Bahram is Senior Partner at India's leading Law Firm AZB
Partners. He represents the legal fraternity and provides expertise
on our board. Meher adds all the new spokes to the wheel at CAP
making it move forward with new and enhanced programmes with greater
outreach. Do these 2 Virgos have more in common than just CAP? Read
to find out.
What's
the toughest decision you ever made?
Bahram
– There have been many, but one of the toughest has been leaving my
first job at the law firm Little and Company. I was very attached, as
my dad was there and naturally many senior partners were close and
almost like family. It was overall a wonderful place. In fact, they
were so upset when I decided to leave that they made me give a notice
period of a year hoping that it gave me enough time to reconsider.
Meher
– Whether to keep trying OR walk away! Often in life we get into
situations that where we put in our best, we try with all we have but
for some reason or another things do not work out. While maybe the
head says the best solution is to walk away – the heart cannot give
up what has been built so far.
Which is the most interesting travel
trip you have been to?
Bahram – By far the best travel trip I
have gone on, is my honeymoon with my wife Arti. 8,000 kilometers in
a Maruti 800, up and down both our beautiful coasts, and across India
from West to East and back. Tiger sanctuaries to fabulous temples,
people and landscapes and always delicious food.. 'Dhabas' to one
of Oberio's first resorts, Gopalpur on Sea, Orissa!
Meher – From the few experiences I
have had, one I would like to repeat would be the houseboat in
Kerala. Two nights of simple relaxation, pristine beauty waking up in
the middle of the backwaters and blissful solitude accompanied by
simple local cuisine. The other favourite has been the beaches in Hua
Hin Thailand which for 3 years of my life was an every weekend
ritual.
Share
any one experience in your life that has changed you for the better
Bahram
– I
have been involved with the micro finance space. Through Grameen I
got involved with CASHPOR Micro Credit which is a poverty focused,
not for profit Company that provides micro-finance exclusively to
Below Poverty Line women in eastern U.P. and Bihar. As a board
member, I made field visits at the grassroots. The poverty I saw
there, was a stark
contrast
from my daily routine life. That experience was truly a life-changing
one that made me both grounded and grateful.
Meher
– I lived in Thailand for 5 years. Prior to that I had never
travelled or set out of home. I worked there in the British
International School, with expatriate children. It exposed me to a
new way of education, a fresh culture. When I returned back to India,
I worked at the Akanksha Foundation with children who were at the
other end of the spectrum. I had no idea of a non-profit or never
been exposed to this side of life. This oppositeness in both
experiences broadened my thinking, my perspective to our problems and
life
Any
childhood memory that you wish your children could re-live with you?

Bahram
– "
My children have been fortunate to have a wonderful childhood thanks
to my wife Arti, including many of the simple pleasures I had,
like cycling, kite flying, playing with marbles (very big in St
Mary's at the time). However the one thing I feel they really missed
out on, was spending time with my dad who unfortunately passed away
when I was 15.
Meher
– I believe the advances in technology have cut down the real life
experiences for our children. The little things in life not only
amused us but also were the big wonders and often special joys for
us. I feel that is completely missing in our childrens' lives today.
I wish my children could re-live some digitally detoxed days like we
had.
What
is the one thing that should be taught in school that isn't
already? University
or life experience, which do you feel best prepares you for life?
Bahram
– Integrity and Communication. Although it is indirectly taught
through social studies etc, I think the missing link is in having the
students imbibe it as part of their daily life. I also think
communication is such a vital skill that needs to be instilled.
Experience
prepares you better than any university can. I stayed in New York
while I studied at Columbia in 1982. It was at that time considered a
scary place and I think it taught us to be tough, independent and
worldly wise…something no academic education could have prepared me
for.
Meher
– Nothing prepares you for life as well as real-life experiences can.
No matter how prestigious the degree, no matter how high the grades,
no matter how well-known the academic institution, it is only after
you step out in the real world that the experiences good and bad &
ugly shape us to become who we ultimately are. Living and working in
Thailand for 5 years taught me more than my 15 years in academic
institutions.
Meher Gandevia-Billimoria & Bahram Vakil
What
are some of the cuisines you enjoy? If you could only eat one dish
for the rest of your life, what would it be?
Bahram
– I
love food, I love almost all types of cuisines – Indian, Italian,
French, Thai and our very own Parsi food. I enjoy a variety of dishes
through my travels. But if I had to eat one dish for the rest of my
life it would be without a doubt 'dal-chawal'.
Meher
– I like my meals simple but with the correct accompaniments, lightly
flavoured and fresh. In spite of having a catering college background
I am not into pretentious fancy food. I like Chinese food which
definitely gets better the further it moves away from China. Thai
padsiew noodles and Indian butter chicken are also equal favourites.
I would not tire of, dal, rice, aloo sabzi with pickle and papad.
If
you could be someone else for a day who would it be and why?
​Bahram
– Without a second thought – Roger Federer. We are a huge tennis
fan family. My mum Jeroo Vakil played for India and was at No 2 or 3.
She often competed against Kiran Bedi who was more than ten years her
junior. Even today my mum, at 77 plays tennis thrice a week.
Meher
– I have thought about this but can't really think of anyone.
This
article is from CAP's Quarterly newsmagazine Philanthropy (Sept – Dec 15 issue). To get your
printed version of the magazine, write to connect@capindia.in