Doing Good Index 2018 – Maximizing Asia's Potential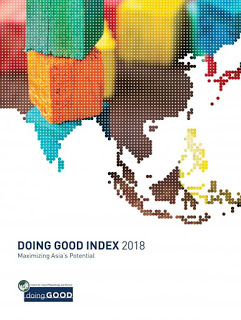 The
inaugural Doing Good Index examines the enabling environment for philanthropy
and private social investment across 15 Asian economies. Encompassing four
areas – tax and fiscal policy, regulatory regimes, socio-cultural ecosystem,
and government procurement – the Index reveals how Asian economies are
catalyzing philanthropic giving. India is one of the economies covered under
this study spearheaded by the Hong Kong bases Centre for Asian Philanthropy
& Society (CAPS), with the Centre for Advancement of Philanthropy (CAP) as
also GuideStar India partnered as program partners for India.
The
Index serves as a unique and useful body of data for Asian governments, as well
as for nonprofits, foundations and charities in Asia, to learn from each other.
At a time when policy is evolving, the social sector is growing, and interest
in philanthropy is rapidly developing, the DGI shows the potential for Asia to
leapfrog and become a leader in social innovation.
If
the right regulatory and tax policies were in place, Asian philanthropists
could give over US$500 billion, contributing to the US$1.4 trillion annual price
tag needed to achieve the Sustainable Development Goals.
Program
Partners from across the 15 Asian Economies including India will meet in
Bangkok, Thailand on 18th & 19th January 2018 to
discuss the dissemination strategy and chalk out an effective approach to
making the most impact possible in each local economy for these ground-breaking
findings.